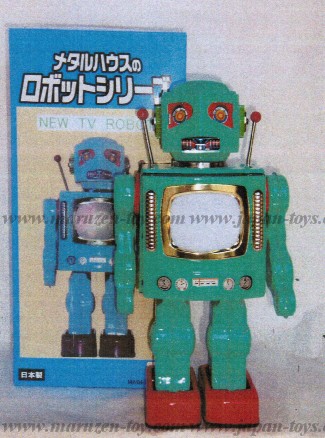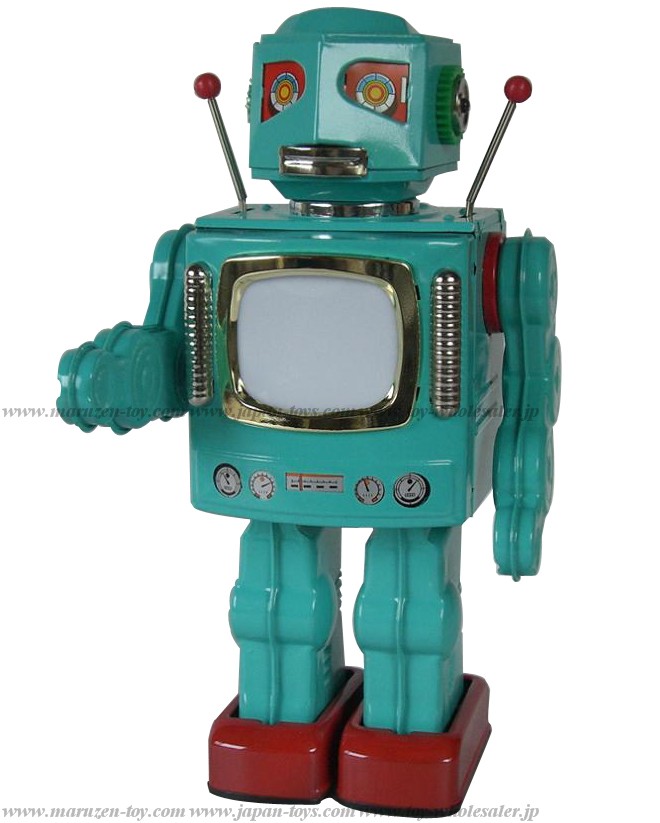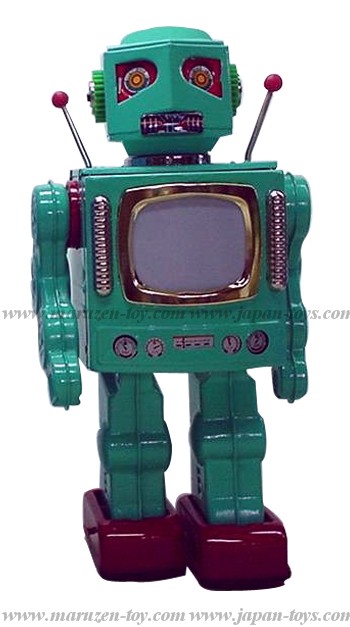 *The actual item may differ slightly from that shown in the image.
| | |
| --- | --- |
| Product Name | (Metal House) TV Robot -Made in Japan-(3-5 month to be in stock) |
| Product Code | L-0202 |
| Schedule | |
| Size | 90x135x290mm/3.5x5.3x11.4inch(Depth x Width x Height) |
| Weight | 1000 (g) |
| Retail Price | 12000Yen |
Product Description
Powered by two size D batteries,
this robot walks and the light on its
head flashes. The robot also moves
its head, arms, and of course, legs.
After walking for a while, the robot
will stop, and the TV will show a
rocket blasting off. Then, the TV
will go off, and the robot will begin
walking again. Batteries sold
separately.

Please noted for Availability

This is the special product like the manufacture will start to make a production
right after we place the order to them, so it may take around for 3-5 month to be
in stock at our store.
If you can wait for it, please kindly finish your order online.

We require the over 50% Deposit when you place the order.

There is a situation that the manufacture will finish the production of this robot by the reason special parts is missing,
in this situation, we will refound your deposit.

Thank you.
Packaging Details
Each robot comes in a display box.
Assortment of
Colors and Shapes
Comes only in the color and style
shown.
Note
Small Order
Our Best Price:9900Yen 17.5% OFF the retail price!
Minimum Order:1pcs Discontinued
Master Case Order
Small Order Only



For inquiries about our web site
or to request information about very large and special orders,
please contact us at the address below.


Home
by MARUZEN SYOUTEN INC.
8-3 Matsuya-machi Chuou-ku
Osaka-city, 542-0067 JAPAN
TEL:(+81)-6-6762-8755
FAX:(+81)-6-6762-8756
inquiry@toy-wholesaler.jp
Hours : Weekdays 9:00 - 17:00
StoreClosed : Saturdays, Sundays and National Holidays
(A calendar on the top page.)

The use of the images on this web page without permission from
Maruzen Syouten Inc. is strictly prohibited.
Copyright Maruzen-syouten Corporation. All rights reserved.